Mercedes-Benz Citan 2012
Galvannealed sheet steel, used in the production of Store Van commercial vehicle fittings, is the variant of hot-dip galvanised sheet steel which undergoes additional heating to a temperature of about 550°C. By means of this process, the zinc is bonded to the surface of the sheet steel, forming an alloy with the steel and a uniform galvanised layer. The sheet steel is then further toughened by cataphoretic coating, a treatment that releases a uniform deposit of an acrylic resin on to the component's surface, to protect it from rust. This is why the quality and exceptional corrosion resistance of the mobile office modules for your Mercedes-Benz Citan van are so much better than the rest.
Voorbeelden inrichting Mercedes-Benz Citan 2012
Vloeren & wanden voor Mercedes-Benz Citan 2012
With three length versions (Compact, Long and Extralong), three wheelbases and three loading lengths (up to 1,258 mm), flexibility is definitely the strong point of theMercedes-Benz Citan van. Whatever the dimensions of the cargo area, of your chosen version, we are able to offer you, tailor-made, the right solution for protecting the bodywork from wear and rust. Choose Store Van linings for commercial vehicles: we offer polypropylene honeycomb panellings and phenol resin-bonded marine plywood (12 mm) flooring shaped to fit around the vehicle's original load anchoring fixtures.
Bagage- & ladderdragers voor Mercedes-Benz Citan 2012
The Store van luggage and roof racks are fittings designed to optimise the load capacity of your Mercedes-Benz Citan van, allowing you to use the roof area as useful space for transporting your ladder and bulky equipment. Constructed to legal standards and GS certified, both products guarantee the safety of the transported material, both on the move and in the event of rapid braking. The loading roller and the servo-assisted lowering slide, constructed with aluminium and stainless steel, not only simplify the removal of items from the roof but will also last a lifetime.
Bagagedrager voor Mercedes-Benz Citan 2012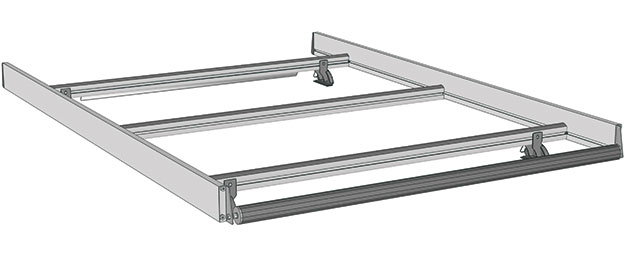 Ladderdrager voor Mercedes-Benz Citan 2012