Peugeot Bipper 2007
We are the only ones in the world to produce commercial vehicle fittings with the "galvannealed" sheet steel coated by a cathodic dip process with acrylic resin, which is uniformly deposited on the surface of every single piece to create a protective layer that defends the fitting even from direct exposure to the weather and chemicals. This gives Store Van shelving systems for Peugeot Bipper vans excellent resistance to rust and corrosion.
Vloeren & wanden voor Peugeot Bipper 2007
Ideal as a small mobile office, the Peugeot Bipper is one of the favourite light commercial vehicles for professionals on the move, who choose Store Van bodyworklinings to keep the sheet steel of the cargo area in good condition for longer. Our fitting centres across the whole of Italy cut 12 mm resin-bonded plywood floorings with phenol film coating, shaped to fit around the vehicle's original load anchoring fixtures, and polypropylene honeycomb panellings for doors and sides, to size for Peugeot Bipper vans.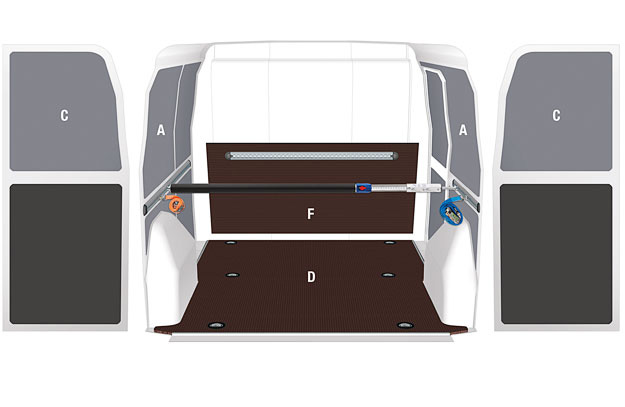 Bagage- & ladderdragers voor Peugeot Bipper 2007
The Store Van roof rack for Peugeot Bipper commercial vehicles consists of aluminium bars with rubber profile and fixtures, side retainer bars and aluminium loading roller. With our GS certified system, goods stowed on the roof of the van travel in complete safety, not shifting even in case of sharp braking.
Bagagedrager voor Peugeot Bipper 2007