Fiat Talento 2016
Store Van offers van equipments solutions for Fiat Talento with outstanding resistance to corrosion, guaranteed by cathodic dip painting process. We are proud to be the sole LCV's equipment manufacturer worldwide to make use of this technology, which grants an enhanced resistance to oxidation.
Thanks to our state-of-the-art 3D modeling software, we are able in just few minutes to create a realistic, high definition simulation of the proposed fitting. This allows us to adapt our fittings to many requests, meeting various professional needs of different customers.
Vloeren & wanden voor Fiat Talento 2016
Applying Store Van flooring and side polypropylene panels for Fiat Talento provides guaranteed protection for the bodywork of your commercial vehicle's cargo area. Our internal linings for commercial vehicles Fiat Talento are honeycombed polypropylene panels which cover side walls, sliding door and rear doors. The flooring is shaped to fit around the vehicle's load original anchoring fixtures. Bulkhead protection with 12 mm thick wooden panel with phenolic coating.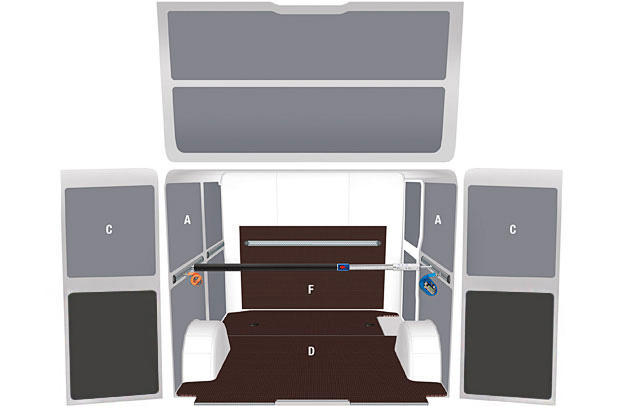 Bagage- & ladderdragers voor Fiat Talento 2016
Store Van ladder and roof rack systems for Fiat Talento commercial vehicles allow equipment to be safely transported on your van roof in full compliance with the law. Loading and unloading operations are simplified by the ladder rack aluminium loading roller and the aluminium and stainless steel slide with cushioned lowering. The Store Van roof and ladder rack system is the easiest way to increase your Fiat Talento's load capacity.
Bagagedrager voor Fiat Talento 2016

Ladderdrager voor Fiat Talento 2016